SMART TECHNOLOGY — MORE CONNECTED FOR MORE CONFIDENCE AND CONTROL
Spektrum™ Smart Technology is about offering a higher connection to your hobby. It's an RC ecosystem that puts you in complete control while making vital components of your model easier to use than ever before. Smart technology ensures that all of your model's electronics work together seamlessly for the greatest efficiency and performance. It keeps you aware of every component's status, boosts your confidence in its capabilities, and makes your entire system more responsive and simple to use.
Spektrum radios with Smart features can download firmware updates instantly using Wi-Fi and can swap setups with compatible radios via Bluetooth. Spektrum Smart LiPo batteries have a built-in microchip that records and communicates your charging preferences automatically to Smart chargers — just connect your pack and press "Start." Smart IC™ series connectors include an innovative data wire that transfers information easily between Smart components with a single connection. Finally, Smart ESCs not only deliver power but also eliminate the hassles from running telemetry. The days of installing and connecting multiple wires, sensors, modules and links are over.
INTRODUCTION
The AR637T opens up a new era in receivers that will make it easier than ever for fixed wing pilots to transform their flying experience. The AR637T receiver is full-range and compatible with any DSM2 and DSMX aircraft radios.
PRODUCT FEATURES
Perfect for electric park pilots to large gas models requiring 6 Channels or less
Built in AS3X Stabilization System with SAFE flight envelope protection
AS3X and SAFE set up through forward programming directly from your Spektrum transmitter*
Ready to use with Spektrum Smart ESC for one-wire telemetry data without the need of modules, links and wires
Full range telemetry with integrated barometer to provide altitude and vario telemetry without additional modules
DSMX protocol receiver with DSM2 backwards compatibility
Bind button allows for easy binding and eliminates the need for bind plug
Streamlined, end-pin design in a lightweight hard-case
Expansion ports for use with SRXL2 remote receivers and telemetry sensors
Standard servo connectors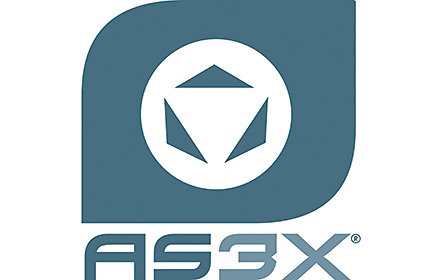 AS3X® TECHNOLOGY (3-AXIS STABILIZATION)
Exclusive Spektrum™ AS3X® technology enhances flight stability by countering the effects of wind, turbulence, and other outside forces to help your aircraft fly smoothly and with precision. You'll feel like you're piloting an expertly tuned model that performs exactly as you want.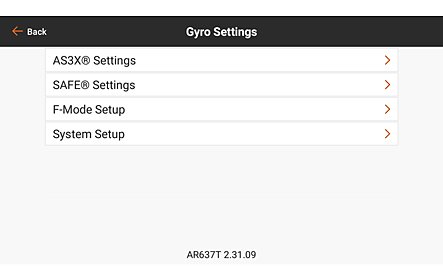 FORWARD PROGRAMMING
You can configure the AR637T receiver wirelessly, directly from any compatible Spektrum™ transmitter, through the Forward Programming menu. No separate computer or mobile device is needed for setup and adjustments.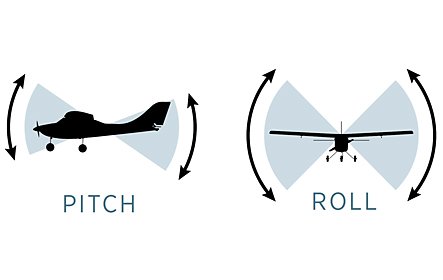 SAFE® TECHNOLOGY
SAFE® (Sensor Assisted Flight Envelope) technology flight modes help pilots avoid over-controlling their models. SAFE uses AS3X to deliver normal flight performance, but with limited bank and pitch angles to prevent the aircraft from getting in extreme attitudes.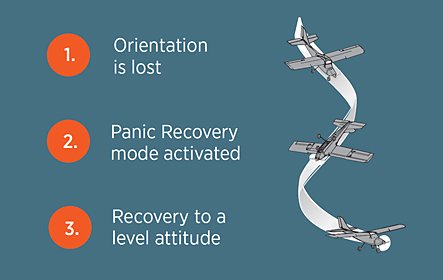 SAFE® PANIC RECOVERY
Sometimes called a bailout mode, Panic is a SAFE Stabilization mode that can return an airplane to level flight from any attitude. It is usually assigned to a momentary button.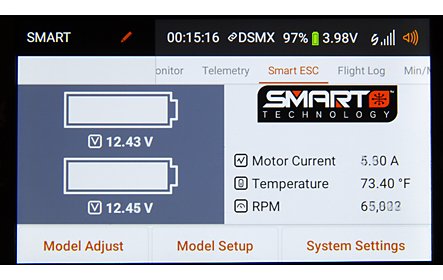 SMART TELEMETRY
To enjoy the full benefits of Smart™ technology, use the AR637T receiver with a Smart ESC and telemetry capable Spektrum DSMX® transmitter. Vital telemetry data such as current, voltage, temperature and RPM is sent directly to your transmitter in real time. For more information on Smart Technology please visit our Spektrum Smart Technology page.
INTEGRATED BAROMETER
The Spektrum™ AR637T receiver features an integrated barometer (built-in pressure sensor) to provide altitude and vario telemetry data without the need to purchase additional sensor modules.
Spektrum AR637T 6 Channel SAFE and AS3X Telemetry Receiver
Brand: Spektrum
Product Code: P-SPMAR637T
Availability: In Stock
£79.99

£71.99

Ex Tax: £59.99