Features
New propeller struts
New propellers
Heavy duty flex shafts
SpektrumT DX2E ACTIVET 2-Channel DSMR®
Two water-cooled 1900Kv 4-pole brushless motors
MR4000 potted receiver
Scale design, aluminum, push-pull rudder system with working scale dampers
Dual under hull water pick-up lines, for electronics cooling
Waterproof, high-torque SpektrumT Servo
Hand-laid fiberglass catamaran hull optimized for speed and performance
Secure canopy latch system keeps electronics safe
Designed to be competition ready out of the box
Waterproof electronics
Two water-cooled Dynamite® 120A marine ESC's with 6S battery compatibility each
Licensed and authentic Miss Geico trim scheme
Needed to Complete
(2) 2S, 3S, 4S, or 6S 50C LiPo batteries with EC5T Connector
LiPo Battery Charger
AA batteries for included transmitter
What's in the Box?
(1) Miss GEICO Zelos 36 Twin Brushless Catamaran with:

(1) MR4000 potted receiver (installed)
(1) Waterproof, High Torque SpektrumT Servo (installed)
(2) Dynamite® 120 Amp marine ESC with 6S battery compatibility each (installed)
(2) Water-Cooled 1900Kv 4-pole brushless motors (installed)

(1) SpektrumT DX2E ACTIVET 2-Channel DSMR® Transmitter
(1) Boat Stand
(1) Product Manual
Overview
Speed is the name of the game in the world of high-speed RC catamarans. The Pro Boat® Miss GEICO Zelos® 36 Twin Brushless Catamaran is one of the fastest boats on the market with out-of-the-box speeds hitting 75+MPH**. By the time your competition realizes what hit them, they'll be in your wake thanks to not one, but two counter-rotating 1900Kv 4 pole 36mm x 74mm motors. From tip to rudder, the Miss GEICO Zelos 36 is built for speed with a hand-laid fiberglass hull built to withstand the pulse-pounding speeds. Get yours and experience the competition crushing speed you crave.
** 75+ mph can only be achieved with 6S total battery power to each ESC. Refer to the manual for more information.
Power System
Featuring two counter-rotating 1900Kv 4 pole 36mm x 74mm motors, one high torque, waterproof SpektrumT steering servo, and two water-cooled Dynamite® 120 Amp marine ESCs with 6S battery compatibility (each).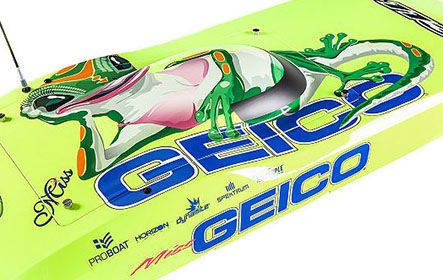 Latch System
Secure canopy latch system keeps electronics safe.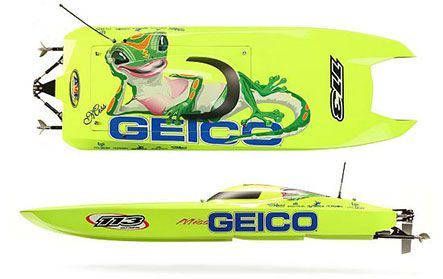 Trim Scheme
Licensed and authentic Miss Geico trim scheme
| Spec | Data |
| --- | --- |
| Speed | 70 MPH |
| Weight | 3.9Kg |
| Motor Type | 1900Kv |
| Length | 914mm |
| Width | 322mm |
ProBoat Miss Geico Zelos 36 Twin Brushless Catamaran RTR
Brand: ProBoat
Product Code: B-PRB08040
Availability: Special Order 1-2 Days
£759.99

£679.99

Ex Tax: £566.66