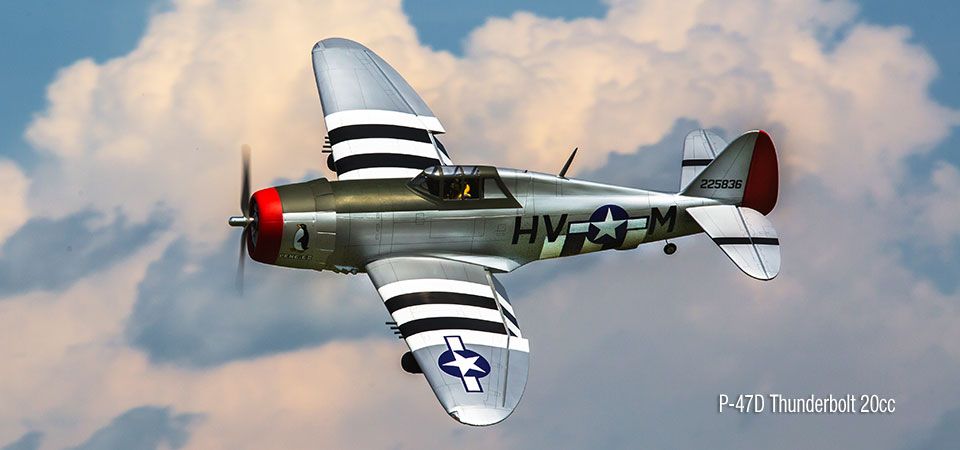 Packed with firepower, fast and heavily armored, the mighty Republic P-47D Thunderbolt could complete virtually every task the U.S. Army required. WWII pilots called it the "Jug" for its massive size and bottle shape. The enemy knew it better as the "Juggernaut" because it dominated the skies as the toughest and hardest hitting foe ever encountered.

The Hangar 9® P-47D Thunderbolt 20cc ARF takes the popular warbird a bold step further. No stranger to making a great flying P-47D model, lightweight, laser-cut construction combines with expert craftsmanship to bring a durable, all-wood airframe with incredible realism and great performance. The result is a model replica that's a blast to fly and looks as though it belongs in a museum. Highlighting its outstanding appearance is a rich film covering with incredible detail and a satin finish. Stunning only comes close to the description of how the intricate panel lines and soft color transitions take this iconic warbird to deeper level. Plus, it's easy to maintain and durable. Multiple nose-art decal options included let you personalize the model to your own liking.

With a 20cc gas engine such as the easy-to-use Evolution® 20GX, you can expect to get long flights that cost only pennies per flight. The large top hatch allows convenient access and quick electric flight battery changes. The two-piece, plug-in wing design makes transport and storage easy. Keep it simple by using the rugged fixed landing gear included, or go all-out and install the optional E-flite® electric retracts. You won't be laboring over the basic build. All hinge slots and holes, including those for the flaps, are factory made so that your time at the bench can be enjoyable as possible. A majority of assembly is bolt-together and the complete hardware package includes everything needed for an engine or electric power installation.

Where this Thunderbolt really shines is in the air. Operational flaps make the flight envelope as wide as possible so you can add that touch of realism on takeoff and enjoy smooth landings. With the throttle full-forward, this P-47D proves its heritage with maneuverability that's rock-solid, heart-pounding high-speed flight and a feel at the controls that will have you wanting more. Whether the P-47D Thunderbolt 20cc is your first warbird or a new addition to a growing fleet, don't be surprised if a Hangar 9 warbird is all you'll ever want to fly.

Video Overview




Needed to Complete
20cc two- or four-stroke gas/petrol engine or equivalent electric motor system
Full-range, 5+ channel transmitter and receiver (6+ for the retract option)
7 Standard-size servos (6 for the electric power option)
2 Batteries for receiver and engine ignition (for the gas power option)
Propeller
Tools and Adhesives
What's in the box?
(1) Hangar 9 P-47D Thunderbolt 20cc ARF
(1) User Manual
Lightweight Construction
Laser-cut, lightweight balsa and plywood construction is utilized to bring the P-47D Thunderbolt 20cc to life as a durable scale model that's expertly built to exacting standards.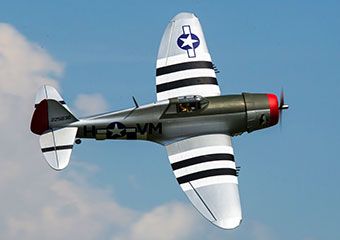 Optional Retracts
Rugged fixed landing gear with shock-absorbing struts is included so that you can keep the project simple. The optional E-flite® electric retract system recommended features all-metal durability and are an easy installation that lets you take the scale realism to a higher level.
Functional Flaps
Light wing-loading and a semi-symmetrical airfoil offer flight performance that's comfortable at a wide range of speeds. Operational flaps allow its versatile flight envelope to open even wider so you can increase flight realism that includes shorter takeoffs and slower landings.
Scale Detail
Beyond the factory applied satin-finish printed covering, other iconic details include a dummy engine, wing cannons and bombs, gear doors, radio antenna and a painted pilot figure, just to name a few. Choose from one of the three nose-art decals included to finish your model off.
Easy Access and Assembly
The convenient top hatch is large for easy access to vital components such as the electronics and batteries. The two-piece plug-in wing makes this large airplane easy to transport and assemble with minimal fuss so you can arrive at the field and be in the air quickly.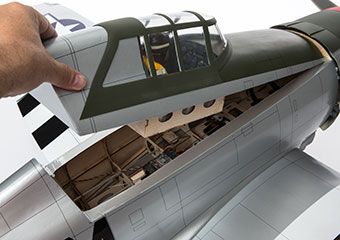 Power It the Way You Want It
The P-47D Thunderbolt 20cc is designed to accept the Evolution® 20GX, 20cc gas engine, a Saito FG-21, 21cc four-stroke or E-flite Power 60 brushless electric outrunner motor system (sold separately). All hardware for the power system options is included along with an electric motor mount so you can get assembly right away and in the air faster.

Important Note:

A compatibility issue has been identified between the E-flite® Power 60 470Kv Brushless Outrunner and the E-flite® 80-Amp ESC (P-EFLA1080B). Horizon Hobby recommends against using this motor with the E-flite® 80-Amp ESC. It is suggested that this motor is used with the Castle Creations Phoenix Edge 100, 32V 100-Amp ESC with 5-Amp BEC (P-CC10000).

*This does not affect the E-flite® Power 60, 400Kv Motor.
#
Hangar 9 P-47D Thunderbolt 20cc
Brand: Hangar 9
Product Code: A-HAN2990
Availability: Special Order 1-2 Days
£429.99

£386.99

Ex Tax: £322.49