FMS 1060MM FUTURA 80MM EDF JET ARTF W/O TX/RX/BATT PURPLE
With the increased interest and development of Electric Ducted Fans (EDF), FMS are proud to announce their 1060mm (41.7 in) wingspan 80mm EDF version of the famous Futura jet. The Futura is a mutual development between the FMS and ThomaHawk. The original design and authorization are from ThomaHawk and FMS have improved on the design to produced a stunning model.
This EPO foam version of this quick flying aerobatic jet is another example of the FMS quality, equipped with a new and improved 80mm fan unit the Futura is capable of producing 3400 grams of force (7.5 LBF) of thrust, coupled with a CNC-processed shock-absorbed metal landing gear set, optional vibrant colour scheme (bright purple & golden or red & black), digital metal gear servo's throughout, the Futura is absolute a must have for the pilot that "Feels the need for Speed".
---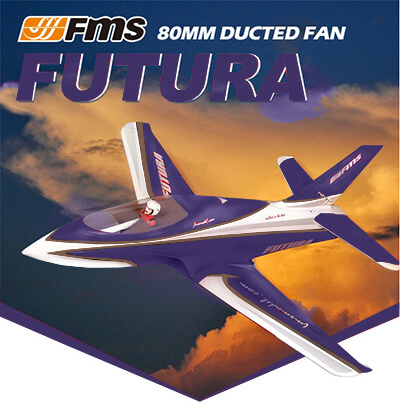 FMS Futura Features:
Powerful 3270-KV2000 motor
80mm 12 Blade Fan unit
High-quality Predator 100A ESC
EPO40 foam material
Digital metal gear servos throughout for better control
New CNC-processed shock-absorbed metal landing gear set (Worm Dia. 10mm) helps to withstand those less-than-perfect landings
Function Flaps
Multi-connector for one-step installation (With the latest multi-connect technology, FMS has streamlined the wiring system, making it easier to install and eliminating wiring problems.)
Oversized battery compartment
Button-type canopy hatch
No glue required, screw-together construction
Environmentally friendly water-based paint for better colour and gloss

Spec Check:
Wingspan: 1060mm/41.7in
Length: 1170mm/46.1in
Flying Weight: 2500g
Power System: Inner running Brushless 3270 KV2000
Speed Control: 100A
CG (centre of gravity) 100-105mm (From Leading Edge)
Propeller: 80mm 12 blade
Servos: 9g Metal digital x 8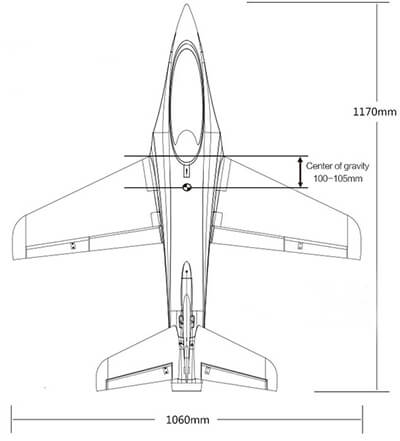 Please Note: This is sold in ARTF format and requires Radio System, 6S 22.2V 4000mAh LiPo, Charger and AA batteries.
FMS 1060MM FUTURA 80MM EDF JET ARTF W/O TX/RX/BATT PURPLE
Brand: FMS
Product Code: FS0229P
Availability: Special Order 1-2 Days
£369.99

£332.99

Ex Tax: £277.49